If you're looking for an outstanding provider of Commercial Landscaping in Wappingers Falls, NY, you can rely on B&W Landscaping to give your property an appearance that displays a positive image to your customers, employees, and the surrounding community.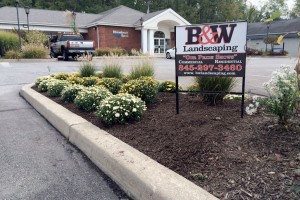 Commercial Landscaping in Wappingers Falls, NY: Design, Installation and Maintenance
Image is everything. The earliest impression people have of your workplace is made before they ever enter your building, or in many cases, even the parking area. A property that is clean, has a well-maintained landscape and eye-catching seasonal color plantings will greatly enrich your customers' overall experience.
Commercial Landscape Design & Installation
At B & W Landscaping we pride ourselves in providing eye-catching and distinctive landscape designs that help your property stand out from the competition.
Commercial Landscape Maintenance
Regardless of what size commercial property you've got, B & W Landscaping can provide the landscape maintenance services you desire to keep your property looking its best all season long.
Spring cleanup of grass areas & landscape beds
Edging and mulching of landscape beds
Regular weekly mowing/trimming of grass areas
Regular ongoing weeding and general landscape bed maintenance
Planting of annuals for seasonal color
Trimming/pruning of shrubs and ornamentals
Fall cleanup of grass areas and landscape beds
Every one of our maintenance programs are custom tailored to fit our customers needs. Please call for more information.